Focus on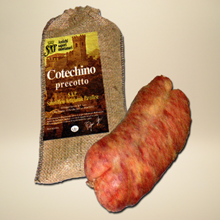 Considered the father of Zampone, "Cotechino" is prepared the same way using lean cuts of pork and rind, ground and mixed with spices. The difference is that the ground meat is stuffed in a sausage casing instead of being stuffed in the skin of the pig's foreleg as with Zampone.
[read all]

Beef Carpaccio and Rucola
Place the slices on a platter. Drizzle with a thin layer of balsamic vinegar...
[read all]

Modena, the birthplace of Enzo Ferrari, has a strong connection with sports cars for a long time. Dream cars like Ferrari and Maserati are built here and since the beginning of the twentieth century, Modena has been an important stage for car racing.
[read all]