Focus on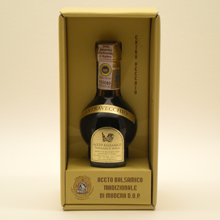 Paolo Rustichelli's Extravecchio is made using the antique tradition of cooked, acidified grape must, aged for many years in barrels of descending sizes from different types of wood (oak, cherry, ash, chestnut, juniper, mulberry). The vinegar rests in barrels for over 25 years, and thanks to Paolo Rustichelli's patient care and experience, the product reaches its final goal of an excellent extra old balsamic vinegar with a perfect balance of sweet and sour.
[read all]

Risotto with Aceto Balsamico Tradizionale di Modena "Italo"
Brown the onion in half the butter, add the rice and toast for a few minutes. Add the wine and allow to boil off...
[read all]

Like all Italian cities Modena has a Patron Saint: San Geminiano...
[read all]