Modena's Racetrack
Modena, the birthplace of Enzo Ferrari, has a strong connection with sports cars for a long time. Dream cars like Ferrari and Maserati are built here and since the beginning of the twentieth century, Modena has been an important stage for car racing.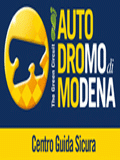 From 1927 to 1947 Modena hosted the "Circuito di Modena" ("Modena's Racetrack"), a race which took place right on the town's streets. The first two races actually took place on Modena's country roads and were both won by Enzo Ferrari driving an Alfa Romeo 6C 1500 SS in 1927 and Alfa Romeo 6C 1500 in 1928. In the following years the race moved to the heart of Modena on a 3.2 km (1.99 miles) long track covering 40 laps. This circuit hosted three consecutive victories by Tazio Nuvolari and two others by Franco Cortese. The last race taking place on September 28,1947 was suspended before the chequered flag, because of a terrible accident. This tragic event stressed the need for a regulation circuit for race cars and motorcycles.

The construction of the first racetrack started on March 28,1949 on a piece of land located alongside Modena's main street "Via Emilia", close to the downtown, that was already in use as an airstrip since 1910 for the local flying club. On May 7, 1950 the racetrack was inaugurated during the Modena Grand Prix for Formula 2 race cars, won by pilot Alberto Ascari.

The new 3.8 km (2.36 miles) long circuit was used for car and motorcycle racing as well as a test track for Modena's sports car manufacturers. This area also served as an airport for tourism and business purposes. From here flew aircraft loaded with locally produced fruit bound for North European countries.

From 1950 to 1961 Modena's Racetrack hosted seven Grand Prix of Modena for Formula 2 racing, won by famous pilots such as Alberto Ascari, Gigi Villoresi, Manuel Fangio, Jean Behra, Joachim Bonnier and Stirling Moss. Up to 1975 Modena's Racetrack was also the setting for 22 Grand Prix for motorcycle racing and two for cycle racing.

Unfortunately towards the end of the sixties Modena's Racetrack started to have problems in complying with criteria regarding track safety which some years later would become obligatory rules. Enzo Ferrari, who had an increasing need for testing his cars, tried first to involve Modena's authorities with a project to build a new and more up-to-date racetrack close to Marzaglia, but this failed, so Enzo Ferrari built his own racetrack in Fiorano. These events started the slow downfall of Modena's Racetrack and towards the end of the seventies it was closed definitively.

Modena's Racetrack made a significant contribution to the development of the town's tourism; hosting more than 50,000 spectators for some renowned events. For this reason, and also given the strong connection between the town, automobile industry and motorsports, Modena opened in September 2011 a new, high performing racetrack. This 2.068 km (1.28 miles) long circuit is located in Marzaglia, and is the setting for several motorsport events as well as driver safety courses.


If you have a passion for racing and are planning a trip in the Modena area, Fine Tastes of Modena can help you live a unique experience driving a Ferrari Challenge F430 on the new Autodromo of Modena!Contact us at info@finetastesofmodena.com to learn more about this great opportunity! The only prerequisite is to be a group of at least 3 people